Today options for AT&T bundle deals abound. Companies are on an endless endeavor to entice more people to their individual internet plans. AT&T is now offering internet plus DIRECTV STREAM bundles, making it easy to tie multiple bills into one which can be great for those who are looking to simplify their life and their monthly bills.
Are you are among the many searching for great AT&T Internet specials? AT&T Fiber internet is already the answer for 20 million Americans. Ditch the other brands and choose the best.
How Does Bundled AT&T Internet + DIRECTV STREAM Work?
It's simple. Standard internet and television bills come separate, but by bundling these services, you alleviate your household of excess paperwork enabling you to focus on one, singular bill for multiple services.
With bundled Internet and TV services from AT&T, you gain access to the channels available in your area through your high speed internet connection. Take two things you love and put them together with AT&T.
The Best Deal for AT&T Internet + DIRECTV STREAM
Ready to reduce your TV and Internet bills? Your best option is to bundle both services. Simplify with one monthly bill and save 40% every month with today's featured AT&T Internet + DIRECTV STREAM bundle deal.
Best AT&T Bundle Deal available in October 2022: $124.99/mo for bundled AT&T Internet 300 + DIRECTV STREAM ENTERTAINMENT™ Package.
High Speed Internet with Download speeds up to 300 Mpbs
Includes Live TV with 65+ channels
45,000+ on-demand title
SHOWTIME®, STARZ®, EPIX®, and Cinemax® included for first 3 months
Unlimited Cloud DVR storage
Regional Sports Networks

TV price higher in 2nd year,

Autopay paperless bill req'd

Get a $100 Visa® Reward Card when you sign up for DIRECTV!
Get Today's Best Deal for AT&T Internet + DIRECTV STREAM
Why Choose AT&T?
New Internet and TV bundle companies seem to pop up all the time. Often, these companies are plagued by a bad reputation or choose bankruptcy to escape a previous reputation when in fact all the company is doing is moving to a new name. That is not a way to do great business and AT&T is among the oldest internet companies available. They have yet to change their name and have been a stable benchmark for those looking for reliable internet and DIRECTV STREAM bundles.
AT&T traces its roots back to 1875 far before anyone knew what an internet service provider was, and experience and reliability is something to be celebrated.
What You Need to Know Before Signing Up (The Fine Print)
With every internet service provider, there are certain things a customer should know. These are the fine print items generally located at the bottom of promotional material, so before signing up, always check the fine print.
Contract
A contract locks a customer into a specific internet plan for a specified amount of time. The contract can be for 1 or 2 years depending on the internet service plan guidelines. AT&T specifies a 2 year contract obligation for its bundled Internet + DIRECTV STREAM packages. Some plans run on a month-to-month basis and do not require any contract term.
Limited Coverage Area
Although AT&T holds one of the largest coverage areas, encompassing practically all of the United States, Mexico, and a good portion of Canada, there are still some select areas that remain illusive to AT&T's signal. These select areas will have a limited signal and therefore, a strong internet signal may not be possible. AT&T, however, does have an online avenue to check your address to see if coverage in your area is available, so it is easy to see how well your signal will be before signing up. Some bundled services may not be available in your area, but it is likely AT&T will have a range of options for your specific area as they are always expanding what they offer customers.
Equipment Concerns
AT&T provides necessary equipment for their services, but ensure that when you sign up, you are given the right equipment for your needs. Some customers have complained that upgrades necessary for optimal use cost extra. Each package includes one Smart Home Manager, but each additional Smart Home Manager and equipment is $5 each per month, subject to change.
Termination Agreement
A termination agreement is a part of every contract and it states that should you, the account holder, choose to terminate your internet service prior to the end of your contract, you are subject to pay a $20 fee for each month left on the contract.
Activation Fee
AT&T charges an activation fee of $19.95 which is a one time fee to get your internet service going. This is a small fee compared to other companies that have been known to charge upwards $60 for the same internet service. Note: Activation fee (regular $19.95) is currently waived for all online orders! Subject to change & may be modified or discontinued at any time.
Breakdown of Available Features and Packages
Each bundle plan begins with a 12 mos agreement for their basic internet plans. Speeds for this service are 100 Mbps, but faster speeds are available for an additional fee. After that, the customers is asked to purchase a DIRECTV STREAM plan based on how many channels they prefer each month. Channels start at 155+ and go up to 350+ channels.
Apps
DIRECTV STREAM bundles provide access to more than 7,000 apps. The device will be preloaded with HBO Max, Pandora, Netflix, and others.
Some customer favorites include YouTube and game apps such as Hunting Trails and Doodle Jump. Third-party entertainment apps are available on the Google Play store.
What Is Cloud DVR?
You may have noticed that Cloud DVR storage time depends upon your package, but you may not know what that means. Cloud DVR is the mechanism that allows you to record shows and watch them later.
Your recorded shows will appear on all connected devices, and they will remain on the Cloud DVR for 90 days.
Pricing
Pricing for general Internet service according to AT&T's current bundle price is $55 plus taxes for basic internet. Prices for DIRECTV STREAM packages vary as well, and plans are often modified or discontinued, but here is what is available currently:
DIRECTV STREAM ENTERTAINMENT: 65+ Live TV Channels for $69.99 mo.
DIRECTV STREAM CHOICE: 90+ Live TV Channels + HBO Max for $89.99 mo.
DIRECTV STREAM ULTIMATE: 130+ Live TV Channels + HBO Max for $104.99 mo.
DIRECTV STREAM PREMIER: 140+ Live TV Channels + HBO Max for $149.99 mo.
Prices may vary based on your service location and requirements for fiber internet connectivity, but this is a general breakdown of available pricing for each AT&T bundle package as of October 2022 and are subject to change. Autopay paperless bill discount may apply. Taxes & fees may also apply.
Get Today's Best Deal for AT&T Internet + DIRECTV STREAM
Where is AT&T Available?
AT&T is among the largest available networks in the nation and throughout much of North America. AT&T is originally based out of Texas, so the southern region of the country is where the most coverage area is available. Although, the company has reached as far south as the southern region of Mexico and as far north as Alaska. It is quickly becoming an option for those throughout Canada as well.
Mountainous regions and strict desert regions may have difficulty getting a signal, thus limited availability, but again, the map tool, available in your area on AT&T's website is excellent for determining your ability to get DIRECTV STREAM and Internet Service bundled from AT&T.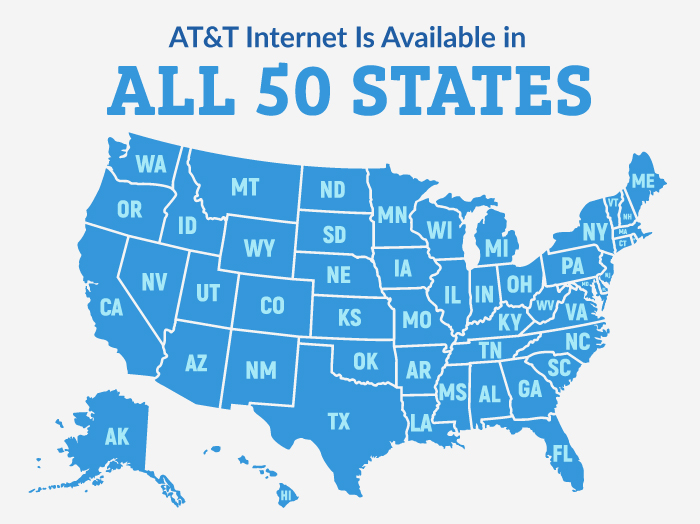 What Others Are Saying About AT&T
We live in an age where everyone has their own opinion and when you are one of the big 4 major internet and wireless companies like AT&T, you will have a mixed bag of reviews.
Where there are some reviews that reflect negatively on the company claiming bad customer service, it is likely many of these complaints stem from customers pushing against the clearly stated terms and conditions of the company.
The vast majority of online reviews are highly positive about the company as a whole.
Customer Service
Although there are some negatives here, customer service for AT&T is largely seen as excellent. Customer service representative tend to go out of their way to ensure all customers are happy. Customers state that representatives are friendly and answer questions without talking down to the customer as has been a complaint with some other internet plans.
AT&T makes giving feedback to their company easy. At the bottom of their main website, the feedback button allows you, as a customer, to weigh in on how well the company is performing. Apart from the rating bar ranging from poor to excellent, customers are also encouraged to leave comment. It is an excellent way to open a line of communication with customers to improve the state of AT&T's service.
Technicians
When dealing with internet and TV services, one or both services can be affected by the weather or other factors. Many times, customer service representatives are able to alleviate the problem by rebooting the lost connection, but other times, a service technician is required to come to the user's home.
AT&T has an excellent reputation for highly skilled, and friendly technicians. Technicians contact the customer when they are on their way to ensure someone will be there when they arrive should they be required to enter the home for inside wiring needs. They work to restore service quickly and have been known to come out on weekends when other service providers are may not be available in your area.
DIRECTV Feedback and Ranking
Even before DIRECTV STREAM bundles existed, many customers were loyal to DIRECTV. In 2021, DIRECTV was the leading satellite TV provider in the United States. Plus, their signal reliability is a staggering 99%.
In a 2021 study by JD Power, DIRECTV ranked among the top U.S. Residential Television Service Providers. The providers were ranked on a 1,000 point scale.
In the East segment, DIRECTV ranked third, receiving only 8 fewer points than the top provider. In the South segment, it ranked third and received 20 fewer points than the top provider. DIRECTV also ranked third in the West segment with 23 fewer points than the top provider.
Nationally, DIRECTV is ranked second and received 20 fewer points than the top provider.
The North Central segment was the only segment in which DIRECTV / DIRECTV STREAM was not ranked in the top three.
What Are My Modem and Router Options?
Available routers for AT&T change as systems upgrade and currently, the company offers 5 router options to choose from, subject to change. They range in reliability and when choosing one, always remember the old saying, "You get what you pay for."
Netgear R700 – This router is considered to be among the best available. It maintains a 100% rating from customers as well as 4 ports and up to 1900 Mbps internet speed. This option is ideal for those who have a home based business or a lot of demand on their internet systems.
Linksys EA9300 – With a rating of 99% from previous customers and the fact that the router can gain download speeds of up to 4000 Mbps, it is noted for its high performance standards. Lynksys EA9300 maintains 4 ports and is recommended for anyone looking for the top router.
Motorola MR2600 – Among the more budget conscious modems available from AT&T, the Motorola MR2600 offers the same 4 ports as other the top grade modems, but with a less expensive bottom line. With 2600 Mbps internet speed capability and a 97% satisfaction rating, it is ideal for families.
Google Wi-Fi Mesh – This Wi-Fi mesh system router only offers 2 ports, but is enabled to handle download speeds of up to 1900 Mbps, so if you are single or maintain a small family, its 98% satisfaction rating has proved quite beneficial to many AT&T customers.
TP-Link Archer C7 – With download speeds of up to 1750 Mbps, it remains among the slower speed modems available from AT&T, but with a 94% satisfaction rating from customers and 4 ports for additional connected devices, the TP-Link Archer C7 is a viable option for a variety of family and business needs.
AT&T Internet & DIRECTV STREAM FAQ
What Do Lights on the Modem Mean?
Your modem maintains a few lights that tell you when it is running correctly. Changes in light color can mean your internet connection is out. Two green lights mean all is well and connectivity is at its strongest. Yellow lights mean limited internet connectivity and therefore some devices might be maintain a slow internet connection. Red lights indicate an interruption in service and no internet connectivity.
Q: How Do I Troubleshoot the Modem?
A: Your modem will lose a signal from time to time, but that does not mean you require a technician to repair the system. Rebooting your modem is an easy way to check initially troubleshoot the modem before calling AT&T's customers service line. To reboot the modem, locate the power button on the back side of the modem. Turn the power off for about 15 minutes and then turn it back on. If a reboot was all that was required, green lights should come on in a matter of minutes from turning on the unit. If trouble persists, contact customer service.
Can I Unbundle Services?
It is possible to unbundle services with AT&T, but when locked in a contract, you may have to pay the $20 per month for the remaining months left on your contract. Should you wish to unbundle services for any reason, you will be subject to higher monthly rates as bundling services offers the best rates for individual services available.
Do I Need a Maintenance Plan?
A maintenance plan is an option for your DIRECTV STREAM and internet plans. It is not a requirement, however, should you opt out of the service, damage to any portion of your equipment may result in replacement fees paid by you.
The maintenance service covers inside wiring as well and coverage is set to begin one month after installation. Although it is not required, to save yourself from additional fees, the maintenance fee is an excellent option. It covers equipment such as modems, phone jacks, home phone, and any other machines connected to your network.
Why Is My DIRECTV Locked?
A: Within your fiber internet and television bundle from AT&T, you will enjoy DIRECTV STREAM services. Ensure that you know your password for your system, but if you happen to forget, after 5 tries, the system locks up. This is for your safety and security. In this instance, you will have to contact AT&T to reset the password, thereby unlocking your DIRECTV STREAM bundles.
Ready to Sign Up?
AT&T continues to grow as a quality bundled TV and Internet service provider for customers throughout North America. Bundling services is beneficial to your home, family, or business as it takes the guess work out of paying multiple bills. It is time to take advantage of steep discounts on AT&T's internet and TV bundled services. AT&T saves you time, money, and offers the latest in entertainment directly to your home.
If you're ready to sign up now for AT&T Fiber Internet with DIRECTV STREAM, click the link below and see if you qualify to get one of today's best internet and DIRECTV STREAM deals, guaranteed.