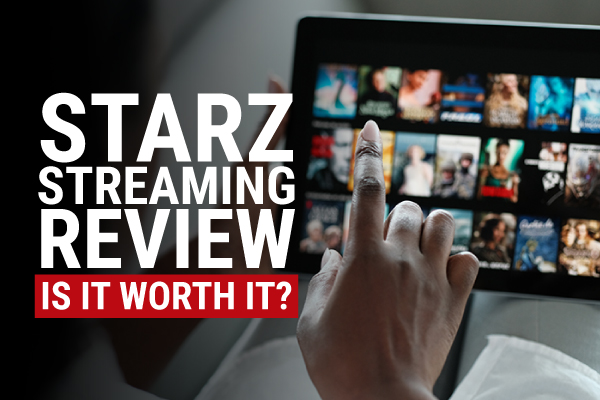 Starz has occupied a central position among the few pillars of premium cable for over a decade. In the 2000s, they earned a reputation for stocking a wide selection of movies and a few excellent TV shows. Now that rival networks HBO and Showtime have transitioned to streaming services, Starz has had to follow in step. Have they delivered a good product?
The following article covers all the information (and some predictions) about Starz's streaming platform. We're going to break down the pros and cons, discuss unique content, and cover the channel's weak points. Finally, we'll answer lingering questions about Starz streaming service current offerings in August 2022. So, let's get started right away!
STARZ Special Offer: $3/month for 6 months
A Short History Of STARZ
The original Starz premium cable channel started in 1994. From the beginning, movie production group Lionsgate owned and ran the channel. Between their origins and today, Starz sprouted a half-dozen specialized channels meant to cater to unique audiences.
By 2016, almost every premium TV competitor had migrated to an on-demand service structure. Starz followed the trend, becoming one of the three or four earliest premium content platforms after HBO, Netflix, and Hulu.
Today, Starz streaming offers a wide library of shows, films (especially the Lionsgate family of films), and original content. Starz Encore and MoviePlex, which are Starz affiliates, also launched a streaming profile in 2016. Starz boasts over 14 million subscribers in 2021.
STARZ Positives And Negatives
Before we move on to the review, let's step back and outline the pros and cons behind Starz streaming. Keep in mind that streaming services change and improve offerings regularly.
Pros
$8.99 Starting price point is much lower than other streaming services
Extensive library of over 1,400 films and TV shows (more than HBO and Showtime combined)
Holds more Certified Fresh and IMDb content than rivals
Supported by a wide range of streaming devices
Excellent but minimal original content
Cons
Smaller selection of TV shows
User experience on the Starz app is subpar
Completely on-demand service, so you can't store favorites on a DVR.
Starz Streaming Service 101
Subscription Price: $8.99 monthly
Annual Price: $74.99
Free trial period: Seven days
Allows password sharing?: Yes
Allows Offline downloads?: Yes
Simultaneous streaming?: Yes, up to four
STARZ Special Offer: $3/month for 6 months
Our Short And Sweet Review
Starz has yet to break through to enjoy the popular success of their sister channels HBO and Showtime. Their user interface lacks the intuitive design that distinguishes the elite streaming platforms like Netflix and Hulu. But Starz is gathering steam (their burgeoning audience numbers testify) and finding their niche.
Starz understands that this service isn't supposed to stand in for a massive wall-to-wall streaming platform. Instead, Starz is more like a service to add-on to the large tentpole platforms like Amazon Prime and Netflix. As a result, Starz's lack of original content and TV shows equals its budget price and highly connective app.
Finally, Starz streaming has a small but loyal audience who enjoy their unique content and giant movie library (currently over 1,400 titles). Starz might best be called a premium add-on streaming service. Lack of 4k support and a slow UI will certainly get improved soon, too.
All in all, this streaming platform is above average, great for its price, and growing into a more central streaming service as Lionsgate dedicates more money to development. CEO Jeff Hirsch recognized the need for more original content, too–promising 16 new series soon.
STARZ Content Library: A Small But Niche Selection
Starz has struggled to attract a subscriber base with the volume and fanatic support of HBO Max, Netflix, and Showtime. Yet Starz commands an impressive backlog of movies (and TV shows to a lesser extent). After scanning through their library, it's hard to understand why Starz doesn't have more fans.
Films
Starz's film collection was initially composed of Lionsgate company products. Today, the platform has broken out to include more films than heavyweights HBO Max and Showtime combined.
Starz boasts popular and critically-acclaimed films. They store more movies in the IMDb top 250 than HBO Now and Hulu. Now that Lionsgate acquired Starz in 2016, their film catalog exploded.
Cult classics like Men in Black: International, Wet Hot American Summer, Venom, and Dazed and Confused are some of the most popular titles across all streaming platforms.
But Starz hasn't shied away from adding serious critical darlings like Pulp Fiction, Chinatown, Days of Heaven, and Once Upon A Time In Hollywood. Many award-winning movies not available on Netflix and Amazon Prime are well worth checking out on Starz. You might even say they specialize in stocking all the niche movies that only big-name platforms overlook.
Starz has a good lineup of children's programming too. Users can navigate through the film library using tags like Kids, Classics, Action, Cartoons, and Romantic Comedy, making it easy to find the perfect movie or anime for a child or adult.
TV Shows
TV shows are where Starz falls behind the competition. Currently, they only stock around 90 shows. That's about a third of the amount of Netflix and HBO Max. Nevertheless, their TV show selection isn't anything to scoff at. They host Outlander, Luther, and the massive success Power, just to name their top offerings.
Most users wouldn't turn to Starz first as a source of great TV programming. But the shows they do offer are often exclusive and have an ardent following.
Original Content
Starz's original content is also limited when compared to industry giants Netflix and HBO Max. Since Starz costs the same as Netflix, some potential customers might consider Starz a less valuable subscription service. But Starz has targeted a market and a subscriber base with Outlander, DaVinci's Demons, and American Gods.
Starz's original content attracts a lot of die-hard fans. In the coming years, the company leadership is moving towards producing much more original content to introduce a broader subscriber base to Starz's library.
STARZ Streaming Price Plans
Starz operates a lot like other streaming services. Users can sign in to the service directly through STARZ on-demand or buy the service as a live TV streaming service package. The price of the service may depend on how you initially purchase the service. Let's discuss the different price plans.
If you purchase a Starz account directly through Starz's own on-demand site, the base plan costs $8.99 monthly. Signing into your account in this way is fairly common, but  you can only use a select number of payment methods. These are:
Now, if you want to sign up for Starz via your TV service rather than as a standalone service, you'll have a little more flexibility. You can still only use the above payment methods. But the subscription price may change. The following Starz packages will cost:
Amazon Prime: $9, plus access to extra Starz channels like Starz Cinema, Starz Comedy, Starz Edge, and Starz in Black, among others
Sling TV: $9 per month, but Sling TV will limit your number of channels to 30.
Hulu + Live TV: $9 per month
AT&T TV: $11 per month
Youtube TV: Users are limited to 80 channels, and Starz costs $9 per month
Philo: Just recently added Starz, $9
STARZ Special Offer: $3/month for 6 months
STARZ Viewing Quality & Offline Downloads
As we noted above, Starz doesn't currently support 4k downloads. Unfortunately, this drawback puts Starz on-demand far behind most streaming platforms, where 4k resolution is the norm. But the service still has a few exciting viewing features to talk about.
The Starz viewing quality is difficult to verify because the video won't allow for screen grabs. Thus, we struggled to compare Starz to other streaming services like Netflix and Hulu. Still, the quality is fine enough. It didn't distract us or keep us thinking about 4k while watching.
Loading times during viewing were minimal, and we were pleasantly surprised at the low amount of interstitial ads we had to sit through. True, you won't get uninterrupted screen time like Netflix. Instead, you'll see short ads between show episodes and at the beginning of movies.
If you want to bring Starz content with you, no problem. The service supports offline downloads for film and TV shows. Keep in mind–you can't download some content, and you'll need an up-to-date iOS or Android mobile device to watch downloaded content.
The downloaded content only remains on the downloading device. So, don't make the mistake of bringing along your phone for a long flight, only to find that your downloaded movies are still at home on your laptop.
What Does The STARZ UI Look Like?
A streaming service can offer a virtually limitless library of content, but no one will get much use out of it if the user interface doesn't work. Luckily, Starz's dashboard works very much like Netflix.
The color scheme for Starz's desktop and mobile interface is dark and streamlined. Wherever you watch the service, the app looks the same.
The interface at the top of the home page allows you to navigate all the Starz sorting features. Just select between Home, Featured, TV Series, Movies, and Schedule. If you purchase Starz as a package from Hulu Live or Amazon Prime, another tab called "Live TV" will show up too.
Starz directs users to find content with a sorting system. In addition, you'll have access to a recommendations tab, popular movies, original content, etc. However, Starz doesn't give you the same level of customizable features like Netflix, for instance.
The Schedule tab is the best way to customize your experience on Starz's UI. It allows you to sort by year, letter and organize your films in a simple grid outline. Overall, the user experience is welcoming and easy to manage thanks to its fast loading times and easy-on-the-eyes layout.
Watching STARZ On Your Devices
Starz has put a lot of work into creating a unified look on a wide variety of devices. You'll see the same dark rows of scrollable titles no matter which method you use to log in. The complete list of compatible devices for viewing Starz on-demand content is:
Samsung Smart TV products with Smart Hub
Xbox One and Xbox S
Microsoft Windows 8 and above
LG TV products with WebOS3 and above
Kindle Fire tablets with Fire OS 5 or above
All Kindle Fire phones
Amazon TV and Amazon Fire Stick
Android 4.1 and above
Android TV, including Nexus Play, Razer Forge, and Nvidia Shield
Sony Smart TV products with Android 5 or above
Current versions of Web Browsers: Chrome, Edge, Firefox, and Safari
Apple iPhone, iPad, and iPod with iOS 8.1 and above
Apple OS X 10.5.7 or above
Apple TV from the 3rd generation and above
Keep in mind that Starz is 100% on-demand. So, there's currently no way for users to save content and review a library of saved content like you would with a DVR. You can, however, use the interface to place content you'd like to watch later in a playlist.
It would improve Starz's user accessibility by a good margin if they implemented a DVR service. We hope that the company improves this feature in the future.
Password sharing and simultaneous streams (up to four streams at a time) help improve user experience. In addition, logins are fast, and all your sorted content appears right away the moment you return to your account.
STARZ Frequently Asked Questions
Whether you're subscribing to your very first on-demand platform or adding yet another to an impressive list, new services are complicated. So below, we've attempted to answer any remaining questions that users might have about Starz–as a service and a company.
How is STARZ Customer Service?
There are two ways to get in touch with Starz if you have a question or complaint. Better yet, we had the most success contacting them by using both methods. On the whole, Starz Customer service is subpar. We encountered hour-long waits and no response from the online chat function.
Email Starz here: help@starz.com
Tweet them here: @STARZHelp
What Are STARZ's Refund Policies?
In contrast to Starz's displeasing customer service record, the company has a clear stance with its refund policy. I say "clear" because the policy is this: no refunds.
That means they don't issue refunds on free trials that lapsed into a paid plan, no refunds on account credits, and no prorated credits for canceled accounts.
How Do I Cancel STARZ?
To cancel your Starz account, you must access it from a desktop computer. Select the "Subscription" tab, then click on "Cancel Subscription." Unfortunately, there is no way to cancel subscriptions with a mobile device currently.
Is STARZ Worth It?
There are two ways to look at Starz and its on-demand service. The way you approach this service will probably determine if Starz is worth it for you.
First, you can look at Starz's impressive list of negatives. They don't have the prestige series of TV shows like Netflix and HBO Max do. A lack of 4K support won't attract serious home TV enthusiasts. It has limited payment methods as well as some glaring inefficiencies with its UI. From this side, Starz has some big issues it needs to resolve quickly to stay relevant.
But the other view of Starz–and I think the better one–is optimistic. We see that Starz higher-ups are investing heavily in new content and stocking more big-name TV shows. Their inventory of movies is gigantic: it outpaces most competitors with its log of critical and popular titles. Starz is a maturing platform that's just gaining its ground in the industry.
Starz is worth it, as long as you're willing to subscribe while the service starts to produce better and better content. If you're not in favor of joining Starz from the ground up, try the free trial period. In seven days, you should have all the information you need to decide if a subscription is for you.